---
Heavy Duty Castored Racks for Gym Floor Covers
---
Racks are designed to hold up to 12 rolls of 10' wide reinforced vinyl floor covering fabric. It features state-of-the-art locking castors with broader floor contact for better weight distribution, manual winder standard or optional power winder with adapter chuck (110 volt). Roller bearings ease the labor required and enable you to "Easily deploy and rewind the floor covering segments in minutes with as few as two people." Optional rack cover available.
Racks measure 34" wide by 11'-3.5" long by 67" tall when assembled.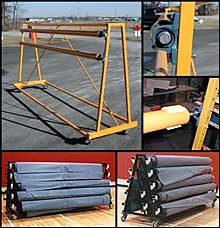 # rolls/shafts
Deluxe*
Standard
5
$2650
$1850
6
$2750
$1950
7
$2850
$2050
8
$2950
$2150
9
$3050
$2250
10
$3150
$2350
11
$3250
$2450
12
$3350
$2550
Optional Power Winder
$1175.00
Optional Rack Cover
$298.00
2" wide x 36 yard rolls of seaming tape (24 rolls/case)
$165.00
3" wide x 36 yard rolls of seaming tape (24 rolls/case)
$165.00
Walk behind Tape Dispenser for seaming tape
$245.00
Order Now
---
Mobile Storage Rack Assembly, Loading and Unloading Instructions
Walk Behind Tape Dispenser Assembly Instructions
---
*Manufacturer's recommendations: when the gym floor cover weight exceeds 10 panels or a total of 1350#'s the Deluxe Rack should be specified...The Deluxe rack is made from a heavier gauge of steel and has sealed bearings on both ends of each shaft...both styles of racks offer our exclusive "no-mar" wide tread locking casters for better weight distribution and floor protection.
---
FEATURES OF OUR RACK SYSTEM
Available in 5, 6, 7, 8, 9, 10, 11 and 12 roll capacity.
Adjustable bar brackets allows for larger/smaller diameter sections. Add brackets/bars depending on need.
One wrap Velcro keeps the floor cover from unraveling.
Non-marring casters for easy rolling even with heavy loads.
NEW state-of-the-art locking casters with broader floor contact for better weight distribution..
All steel tubing for all applications, weight capacity of 2000 lbs
34" wide to fit through standard doorway of 36".
Manual hand crank included.
Optional adaptor and power rewind system.
Optional rack cover.
FOR PROPER WEIGHT DISTIBUTION AND SAFETY when loading/unloading the rack, evenly distribute the weight of rolled gym floor covers. Load from the bottom up alternately from side to side and front to back. Unload the rack following the same procedure in reverse top to bottom.
Mobile Storage Rack Assembly, Loading and Unloading Instructions